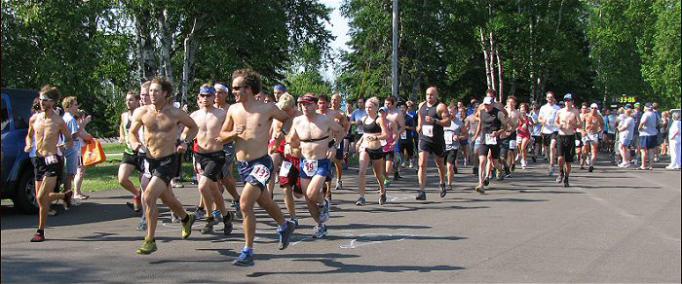 Sign Up for the Tofte Trek
July 4 - Race-day registration is open from 0745-0900 at Birch Grove School in Tofte. Cost is $35/person
This annual 10 KM Trail Run on the monring of July 4th is a favorite of locals and visitors alike. The run starts and finishes at the Birch Grove School on the west side of Tofte. Bring your old running shoes.....it can be very wet and muddy! The morning starts with kid's short children's "sprint" races (by age), then a youth Mile Run followed by the pack of runners (and walkers). Music, food, prizes and a good work-out! This is a fund-raiser by the Sugarbush Trail Association for maintenance and upkeep of the xc-ski and singletrack trails.
Photos from 2013
2018 results
-
2017 results
-
2016 results
-
2015 results
-
2014 results
-
2013 results
-
2012 results
-
2011 results
-
2010 results
-
2009 results
-
2008 results
-
2007 results
Sponsored by:

Pisten Bully Replacement Fundraising Drive
Explore our site...discover the trails! The Sugarbush Trail Association maintains 65 kilometers of cross country ski trails through beautiful and remote Forest Service land in the Lutsen-Tofte area, and has partnered to help develop nearly six miles of new single-track mountain bike trails with additional miles in the planning stage.